By CSU Student Success Network Staff
July 2021
San Diego State University has made headway over the past several years in creating a supportive environment for transfer students on campus, including innovative programming, a new centralized office, and improved graduation rates for transfer students. How did these changes come about? A case study by Informing Change, a firm specializing in evaluation, suggests that the innovations and new programming can be traced to leadership and relationship building among middle leaders at San Diego State. Middle leaders are defined by the CSU Student Success Network as faculty, staff, and administrators in the CSU who have leadership roles on campus regardless of whether their position title acknowledges these roles.
At San Diego State, Michelle Lopez  and Dr. Martha Enciso have been instrumental in creating a campus environment in which transfer students feel welcome and thrive. Mic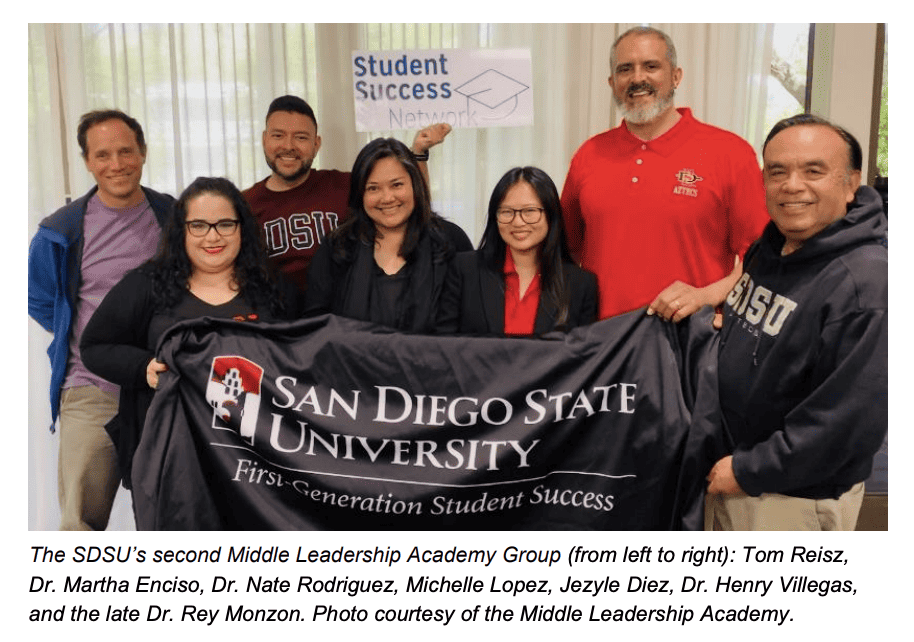 helle is Senior Assistant Dean for Student Success and Martha is Associate Director of the Weber Honors College. In one of their first actions together to improve supports on campus for transfer students, they reached out to admissions counselors and staff in enrollment services and career services to create a Transfer Day for community college students.
Their vision and goals for what an integrated system of campus services might look like came into sharper focus when they attended a convening about student transfer organized by the CSU Student Success Network and hosted by CSU Long Beach. At the meeting, teams from 13 CSU campuses shared their challenges and successes in supporting transfer students, including middle leaders from Cal Poly Pomona, who shared their experiences in opening a centralized Poly Transfer Center.
Click below to read how Michelle Lopez and Dr. Martha Enciso worked to connect transfer students with a range of resources across the full educational pathway—and how the CSU Network's convening on transfer students and year-long Middle Leadership Academy helped to shape their vision and provide them with networking and leadership strategies.