By Thad Nodine 
November 2022
This is the first of two blogs reporting on takeaways from the plenary sessions of the third annual CSU Student Success Conference, which was held virtually October 12 to 14, 2022. Over 290 CSU middle leaders and students participated in the conference, which focused on "Sustaining Momentum for Equity and Change in the CSU."
At the third annual CSU Student Success Conference, a team from CSU Dominguez Hills shared their campus' strategies to re-enroll and re-engage students who attended the university but did not receive a degree. The strategies included: 
gathering data about former students who did not graduate,

listening to what these students say about the barriers they face in continuing their education, 

taking ownership to address these barriers,

reaching out actively to former students, and 

adopting a holistic, cross-campus approach to re-engage and support returning students on campus. 
In line with the CSU Dominguez Hills' cross-campus approach to re-enroll and re-engage former students, the conference panel included speakers from the Office of the Registrar, the College of Continuing Education, a specialized re-engagement program, academic advising, career development, and communications and marketing. 
Gathering Data and Listening to Students
According to Dr. Sabrina Sanders, director of the campus' Toro Reengagement Program, nearly one in three adults in California's most rural regions has attended some college but has not earned a degree. Sanders said that the first step for CSU Dominguez Hills was to begin "a conversation on our campus to see how many [former students] had some college, [but] no degree. We looked to see which of those had graduated elsewhere…. And then we began with a listening session, targeting students in good standing who disenrolled from spring 2016 to spring 2021." 
Registrar John Hill said that several former students in the listening session were grateful to have heard from the campus. He also said that some former students "felt embarrassed and we wanted to disarm them of that. For some of them, life got in the way, family issues took them on a track that they were not able to finish on time, and the process took too long." He summarized the key challenges that former students identified as follows: 
The application process was convoluted and didn't take into account that students are returning. 

The website was confusing and ambiguous, requiring students to contact staff for interpretation.

Admissions policies and practices were unclear and had been inconsistent. 

Lack of flexibility from faculty while students need to balance college with family and work responsibilities. 

Students expressed shame for leaving and no longer felt that they belonged to the campus community.

Inability to see the finish line because there are so many steps to achieving a degree. 

External influences played a significant part in welcoming students back.
Taking Ownership to Address Barriers and Reaching Out Actively to Former Students
Hill said, "We had to take onus on our campus" to make changes to address these challenges. For example, the campus waived its application fee for returning students, launched a new website to address their needs, and created a new admissions process and application form. The campus developed a concierge service that connects returning students to student success teams to provide holistic services and resources. Students are offered credits for prior learning through CLEP, military credits, portfolio reviews, and exams. Academic programs offer flexible course scheduling, online and virtual degree-completion options, and majors relevant to the workforce. The campus provides resources for students facing financial hardships. 
"We wanted to give them credit for life experiences so that the endpoint [for degree completion] wouldn't seem so far away," said Myla Edmond, associate vice president for communications and marketing. "We removed as many barriers as we could." 
To recruit a cohort of former students for fall 2022, CSU Dominguez Hills initiated its outreach through social media on April 21, 2022, and followed with a high-touch campaign on May 19 to over 3,000 former students who had disenrolled from fall 2016 to spring 2021 (see Program Launch Timeline).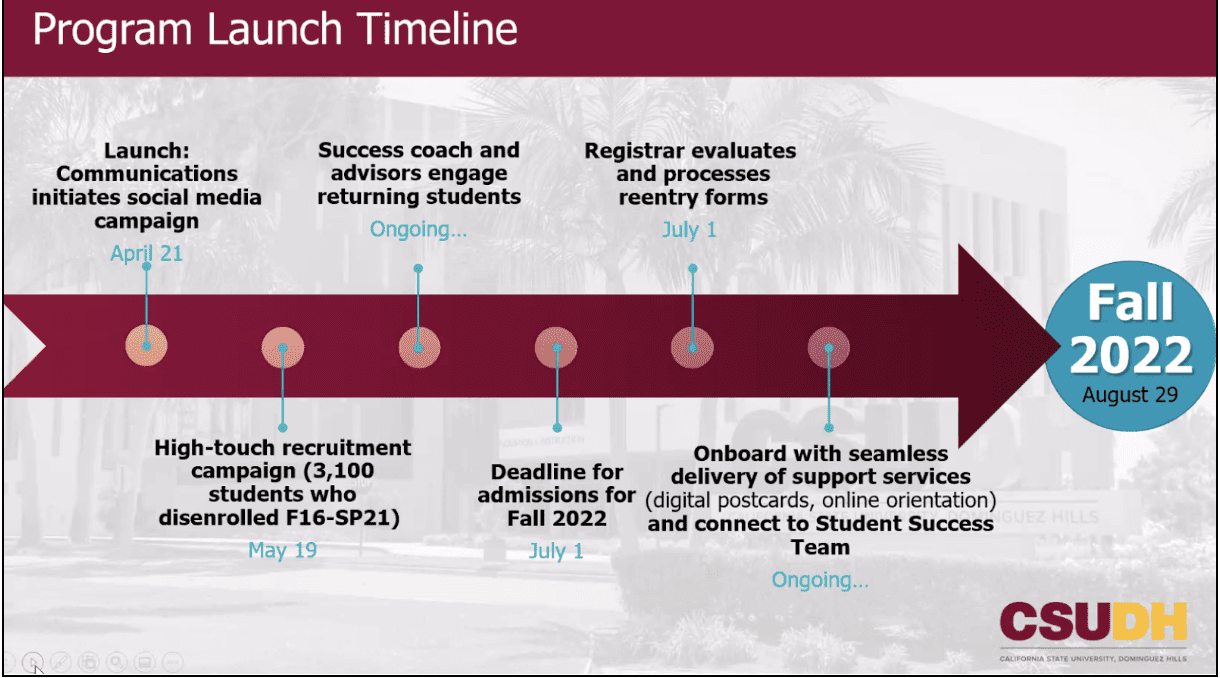 Regarding social media, the campus saw the most engagement via LinkedIn. Edmond emphasized, however, that "this can't be passive communications and expect them to come to us. We reached out to them actively." Edmond also said that the communications approach needs to be strategic and cross-campus (see Communications and Marketing).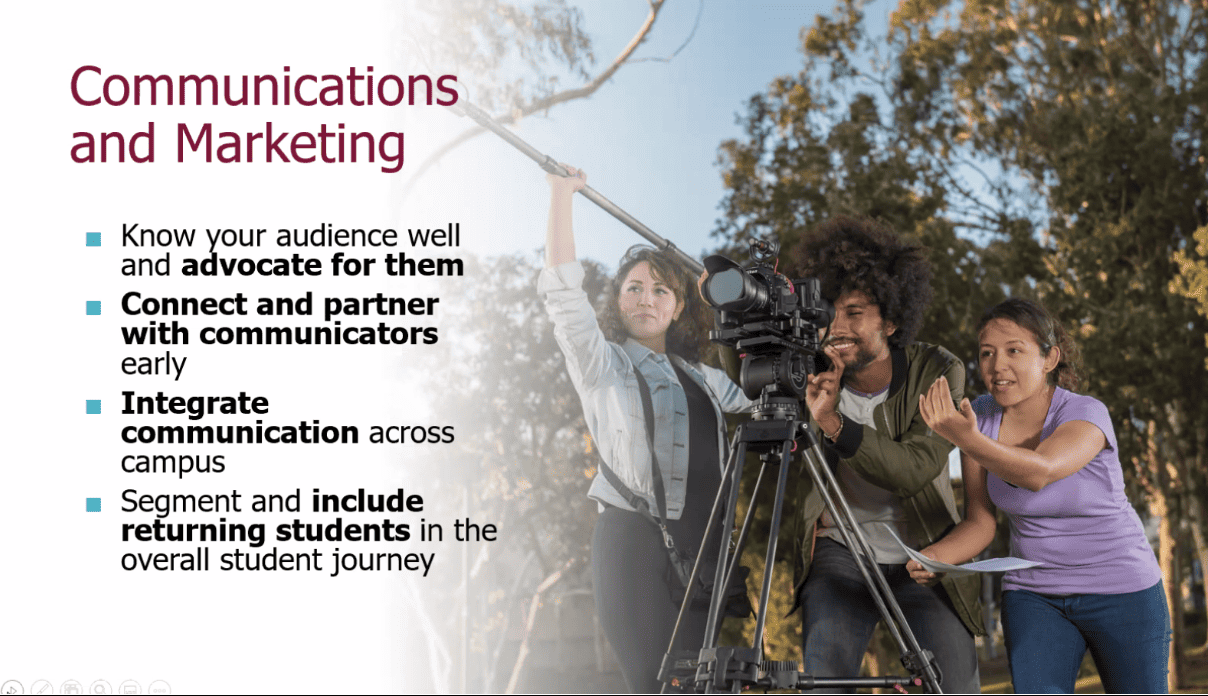 Providing a Holistic, Cross-campus Approach to Support Returning Students
In fall 2022, the program's first term, the campus re-enrolled 367 former students ranging in age from their twenties to their sixties. Campus efforts to connect students with holistic student success teams shifted into gear. The success teams offer a case management approach that provides the students with access to information and services, including counseling, credits for prior learning, flexible course scheduling, and career advising. "One admission cycle does not tell the full story," said Edmond. "This will take time." 
Dr. Andrew J. Drummond, associate vice president for academic advising and career development, said that the following questions help CSU Dominguez Hills plan their programs for returning students and understand how they are or are not serving these students:    
Are we positioned to support the whole student? 

Are we amplifying students' assets while addressing major barriers?

Are we truly owning the value proposition of a higher education?

Are we really centering equity in our efforts? 
He also said that these questions, which are embedded in the campus' strategic plan, are pertinent for understanding the college's approach to all students, not just returning ones. 
Similarly, Myla Edmond said that for former students to feel welcome on campus they need to be included in its stories and be treated as integral to its successes. "Don't forget to include returners in your representation of the overall student experience," Edmond said. 
Three other CSU campus teams at the conference also reported on their efforts to enroll and re-engage former students: Sacramento State, Cal Poly Pomona and Cal Poly San Luis Obispo. The CSU Student Success Conference is the only conference for the CSU that brings together practitioners, faculty, administrators, and students across roles and campuses to share evidence, practices, and actionable research in support of equitable student success.